The Problem: Inspection of the integrity of small internal threads such as M10.
The Solution: Very small fiberoptic probes can be made having two diametrically opposed sensors.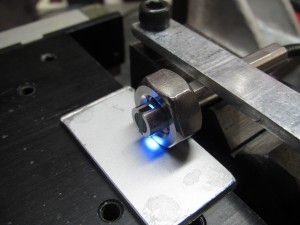 The probe can be used to  scan the length of internally threaded holes as the probe is inserted. The probe is rotated 90° at the bottom of the hole and the thread is scanned once more as the probe is retracted, thereby providing complete thread inspection every 90°. Plus and minus accept/reject tolerances can be set by comparing known good part voltages with known defective part voltages. Missing, shallow and/or damaged threads can be detected as they fall outside the accept/reject tolerance.
Advantages of Fiberoptic Probes
Non-Contact
High Speed
For All Materials Including Non-metals
Catches Missing, Shallow, Damaged Threads