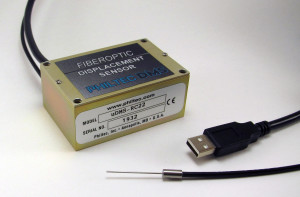 Introducing our smallest and most powerful digital sensor series with USB output: the MicroDMS series (µDMS). Powered via any standard USB port, or multiplexed via any standard USB hub, this new sensor series boasts a maximum data sample rate of 16,000 samples per second in a 145 gram enclosure of LWH dimensions 75 x 50 x 23 mm. With Philtec's fully-featured DMS Control freeware, this sensor is a powerful solution to many measurement problems.
With its miniaturized size and USB power, it is an ideal solution for high density workstations where space is at a premium. Sensors can be stacked together to form the most compact arrangement. For example, 6 sensor modules can be stacked together in a space of 132 mm.
Contact our application engineering staff to explore the possibilities the µDMS series offers for you.